Views: 469

NOT HAVING ALLOWED A BEAR MARKET IN 2020 NATURALLY WITH THE LARGEST ECONOMIC GLOBAL RECESSION IN THE LAST DECADE, WOULD FISCALLY COST VERY DEAR TO THE U.S. TREASURY

THE MONTHLY TIME SCALE CHART OF THE 10Y TREASURIES YIELD, THE RISK-FREE RATE BENCHMARK, CLEARLY SIGNAL A CONSISTENT UPTREND DRIFTING THAT WOULD PROBABLY CHALLENGE THE ICHIMOKU SENKOU A/B AT 2.25% YIELD. THE CHART HAS BEEN CORRELATED WITH COMMODITY INDEX CHANNEL, COPPOCK CURVE, BOTH OSCILLATORS CORRELATE WITH COMMODITIES PRICING TRENDS, BOTH OSCILLATORS SIGNAL A BOTTOMING OUT, THEREOF AN UPTREND IN COMMODITIES, THAT WOULD BE DETERMINANT OF AN EMBEDDED UNDERLYING INFLATION BUILDUP IN THE ECONOMY. FROM A STANDPOINT OF STOCKS AND FLOWS IN THE TREASURIES MARKET, THE U.S. TREASURY DEPARTMENT WILL HAVE TO DEAL WITH TREASURIES SHORT TERM NOTES BORROWING, AMOUNTS OF +$1.0 TRILLION, THAT HAVE TO BE REFINANCED WITHIN ONE TO TWO YEARS TIME SCALE 2021/22. HEAVY BURDEN SHORT TERM BORROWING LEGACY OF THE PAST U.S. TREASURY ADMINISTRATION.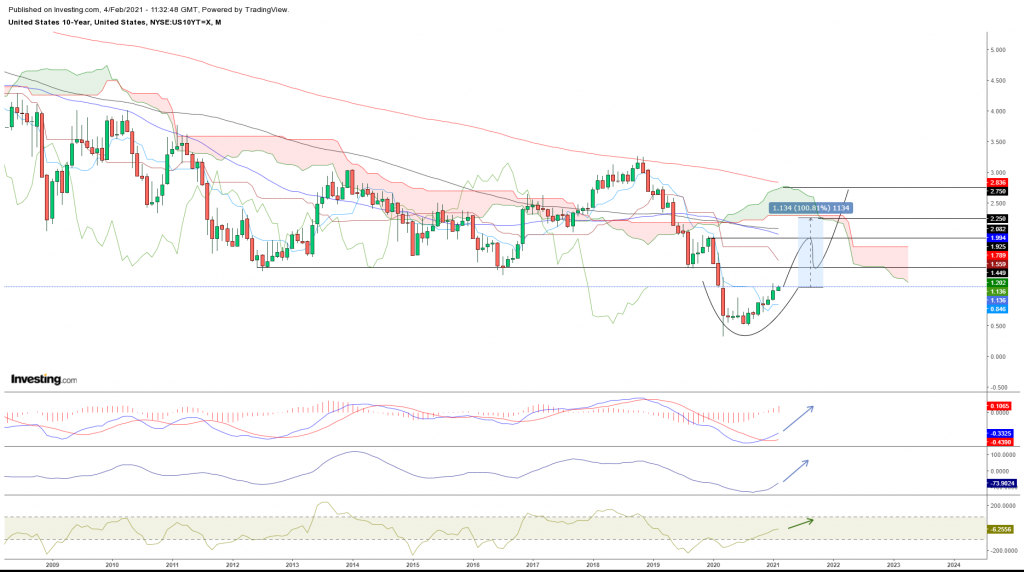 THE 10Y TREASURIES YIELD CHART BELOW, DAILY TIME SCALE, CLEARLY SIGNALS UPTREND, AS THE TRENDLINE HAS CONSISTENTLY MOVED ABOVE THE SENKOU A/B SPAN, WHERE THE TENKAN AND KIJUN LINE PROVIDE SUPPORT AS WELL AS THE MOVING AVERAGES, WHILE THE RSI OSCILLATOR SEES UPSIDE DRIFTING IN RELATIVE STRENGHT.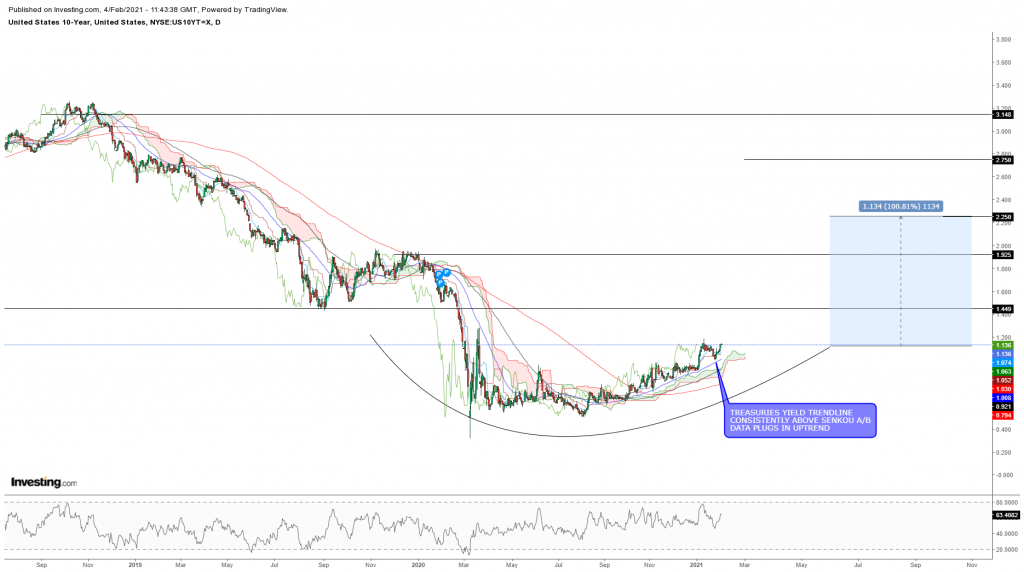 CHART OF TREASURIES 10Y YIELD COMPARED % PERCENTAGE MOVE, AGAINST COMMODITIES SAMPLE: WHEAT, COTTON, GASOLINE, WTI OIL. COMMODITIES INFLATION TREND WELL UNDERWAY, TREASURIES YIELDS COULD LIKELY HAVE TO FOLLOW DISCOUNTING THE UPTICKING RATE OF INFLATION BUILD UP IN THE ECONOMY.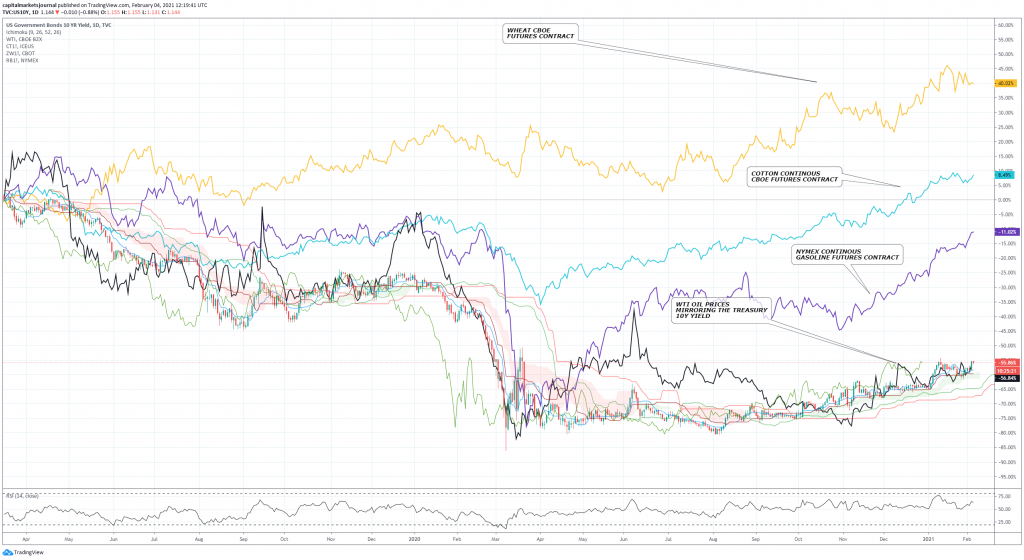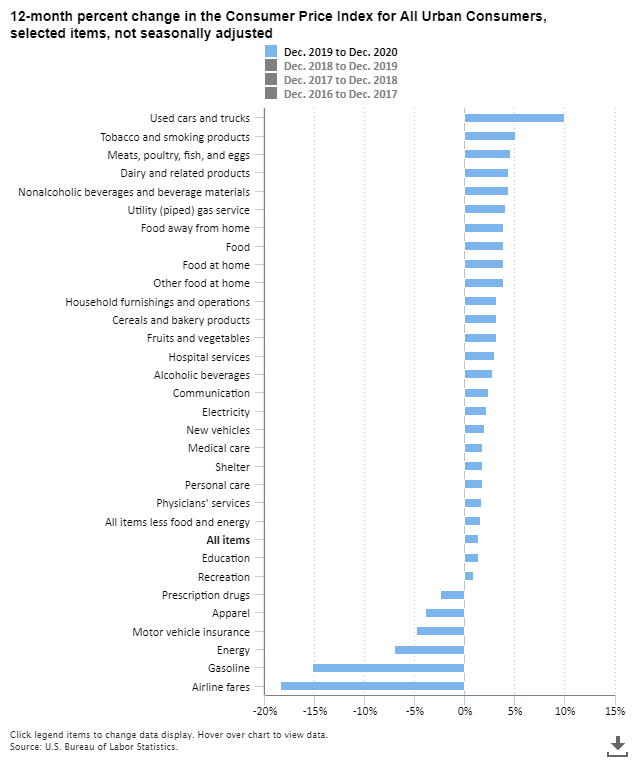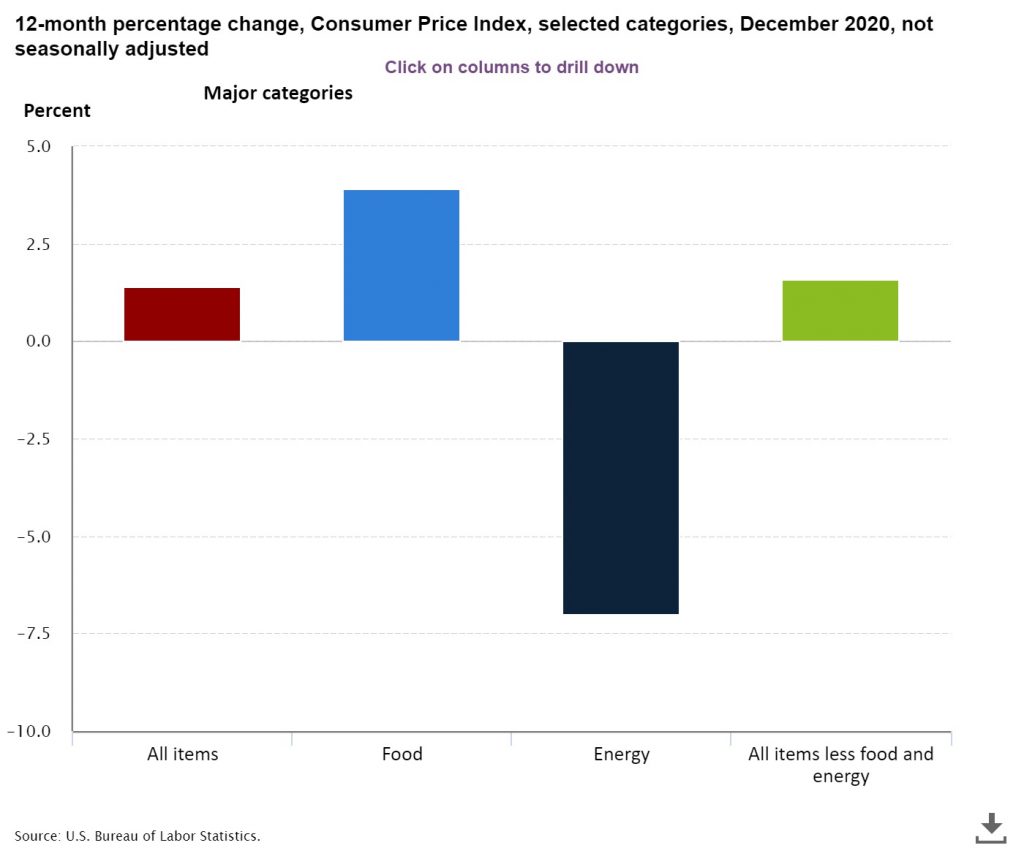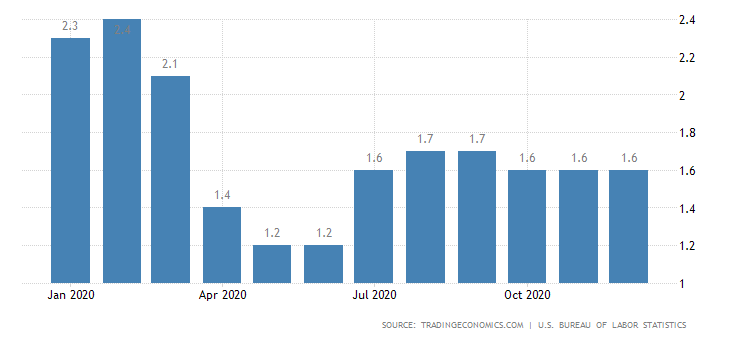 ON A LONGER PERSPECTIVE CHART, 10Y TREASURIES YIELD CAN PEAK TO AS MUCH AS 3.4%<3.5%, CONSISTENT WITH IN AN INFLATION PRINTING CONSISTENTLY HIGHER THAN +2.0%.