Views: 1066

With soaring CPI 4.2% and Producer Prices Index, 6.2% the first ripple negative effect on U.S. Treasury fiscal package would become less purchasing power for millions of ordinary Americans that utilize the Supplemental Nutrition Assistance Program to feed their families.
THE CONSTANT INCREASES IN THE LAST DECADE IN THE U.S. PRODUCER PRICES INDEX PROVES THE UNSUITABILITY OF DISPERSIVE SUPPLY CHAINS, CORPORATE AND MULTINATIONAL PRODUCTIONS DELOCALIZATION.
Producer prices for final demand in the US rose 0.6% from a month earlier in April of 2021, following a 1% jump in March and beating market expectations of a 0.3% advance. About two-thirds of the increase are due to a 0.6% rise in services prices, namely portfolio management; airline passenger services; food retailing; fuels and lubricants retailing; physician care; and hardware, building materials, and supplies retailing. , The index for final demand goods also moved up 0.6%, namely steel mill products. Year-on-year, producer prices jumped 6.2%, the largest advance since 12-month data were first calculated in November 2010.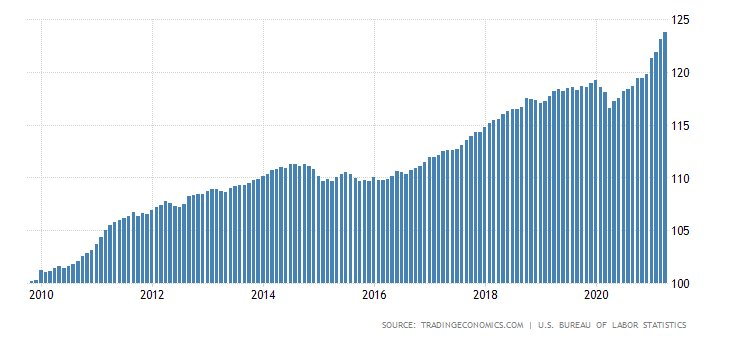 Producer Prices in the United States increased 6.20 percent in April of 2021 over the same month in the previous year, above market forecasts of 5.9 percent