Views: 742

The annual inflation rate in the US soared to 4.2% in April of 2021 from 2.6% in March and well above market forecasts of 3.6%. It is the highest reading since September of 2008, amid a surge in demand as the economy reopens, soaring commodity prices, supply constraints. United States inflation across the board in the economy more likely to become a structural feature, as businesses will need to price in lost revenues due to economic shutdown, accrued debt loads, supply constraints, in so far requiring businesses across the economy to increase retail prices in a 70% consumer-driven economy, thereof making consumers used to higher prices, taking into account the path to the economic recovery while economic activities would be going to restart across States on a larger scale going forward.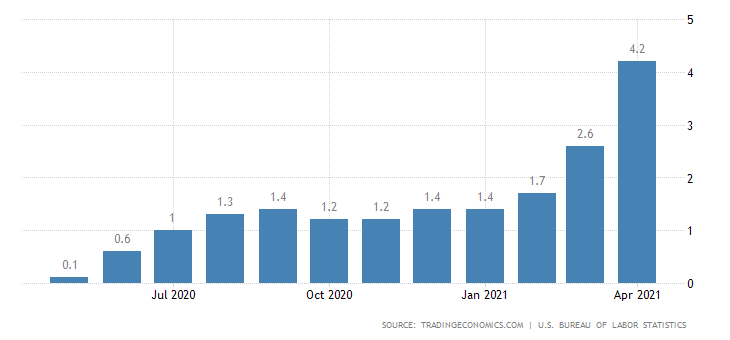 US core consumer prices, which exclude volatile items such as food and energy, rose 3.0% in April 2021, its largest annual increase since January 1996 and well above market consensus of a 2.3% advance.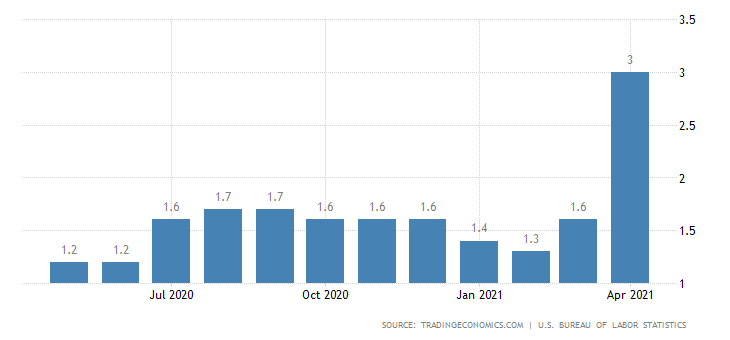 Producer prices for final demand in the US rose 4.2% from a year earlier in March 2021, following a 2.8% increase in the previous month and beating the market consensus of 3.8%. Producer prices increasing 4.2% in March have materialised with soaring inflation across the board in April.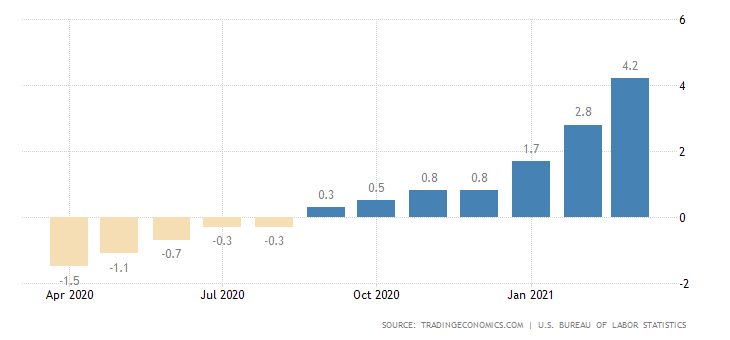 The cost of food in the United States increased 2.40% in April of 2021 over the same month in the previous year.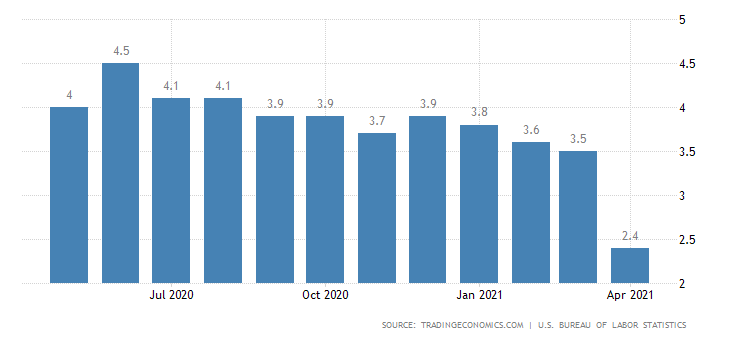 The Consumer Price Index in the United States increased 0.8% month-over-month in April of 2021, the biggest rise since June of 2009, well above forecasts of 0.2%. The index for used cars and trucks rose 10%, the largest 1-month increase since the series began in 1953, accounting for over a third of the all items increase. The food index increased 0.4% as the indexes for food at home and food away from home both increased. The energy index however edged down 0.1% as a decline in gasoline (-1.4%) more than offset increases for electricity (1.2%) and natural gas (2.4%).