Views: 725

Stock markets at all highs during the time's ordinary people are living in do speaks volumes of an astonishing complacency from financial institutions, banks and speculators of the last hour. Considering the latest volatility patterns seen in the small-cap segment of the market with the Russell 2000 signalling a peak rolling over, then becomes important to factor in other key technical and volatility metrics that can reinforce and foresee considerable market turmoil.

The chart below puts in correlation the IWM(NYSE) iShare Russell 2000 ETF that tracks the wider small-caps index Russell 2000. Some of the key technical and volatility metrics measuring the expected rate of return and possible market drawdowns, do signal consistent patterns of market turmoil, at least in the IWM(NYSE) iShare ETF, that can nonetheless function as underlying risk volatility factor correlated to the broader index Russell 2000.

For what regards the Value at Risk metrics for the IWM iShare ETF the VaR -3,21 considers an abrupt max drawdown of 80%, a metric that can be reinforced by Skewness -2.50 implying fat tail market volatility that would see the normal standard distribution going deep into the tail. The Coefficient of Variation 2,191 also signals a higher risk of price dispersion, where risk-adjusted returns of the IWM(NYSE) iShare ETF are linked to a riskier asset and its coefficient of variation.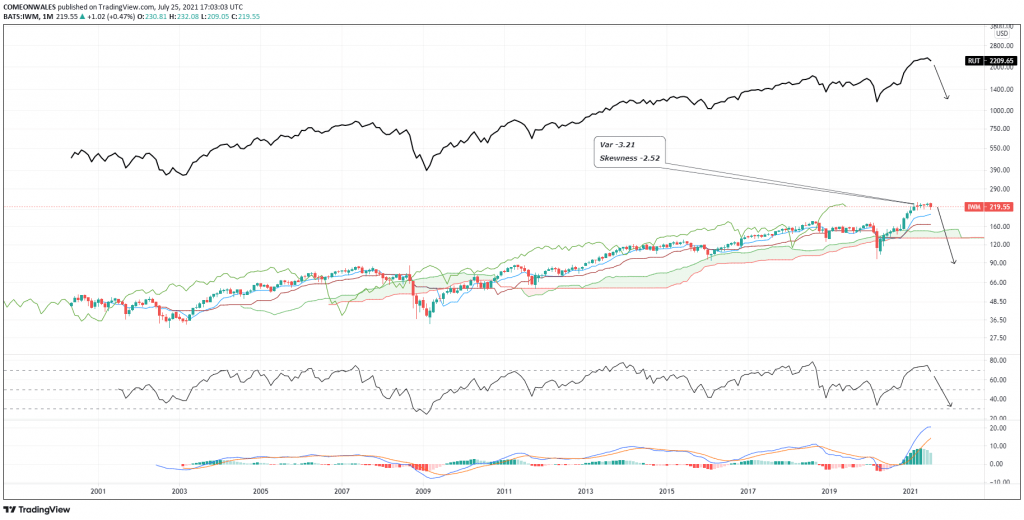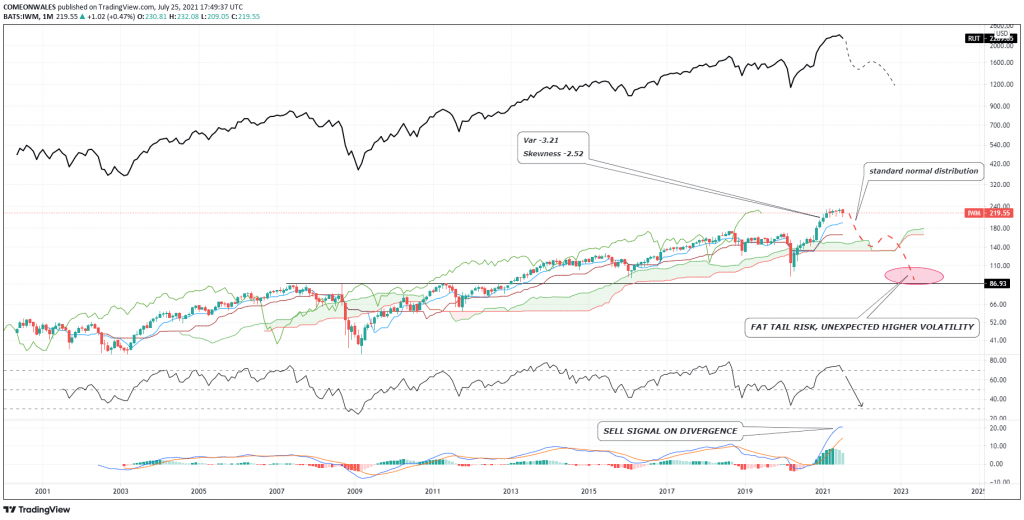 Name
Value
Action
RSI(14)
44.974
Sell
STOCH(9,6)
45.720
Neutral
STOCHRSI(14)
80.904
Overbought
MACD(12,26)
-21.770
Sell
ADX(14)
36.137
Sell
Williams %R
-48.789
Neutral
CCI(14)
-47.8633
Neutral
ATR(14)
46.2338
High Volatility
Highs/Lows(14)
0.0000
Neutral
Ultimate Oscillator
53.599
Buy
ROC
-4.238
Sell
Bull/Bear Power(13)
-42.0917
Sell
Buy: 1 Sell: 5 Neutral: 4
Summary:SELL
Period
Simple
Exponential
MA5
2193.58
Buy
2204.56
Buy
MA10
2204.45
Buy
2212.61
Sell
MA20
2248.38
Sell
2235.22
Sell
MA50
2266.80
Sell
2255.49
Sell
MA100
2256.72
Sell
2217.54
Sell
MA200
2108.04
Buy
2093.19
Buy
Buy: 5 Sell: 7
Summary:SELL