Views: 733

Germany HICP Inflation 2.1% in April ticks 0.1% above 2.0% in March, consistent with ECB expectations, while also France HICP 1.6% in April ticks 0.2% above 1.4% in March converging to ECB symmetrical inflation aim, Producer prices increasing across Euro Area economies could signal rising inflation trend also in Europe.

Germany's consumer price inflation rate increased to 2.0 percent year-on-year in April 2021, in line with preliminary estimates and after an 1.7 percent gain in March. It was the highest inflation since April 2019, as the temporary reduction of the VAT rates ended. Reduced VAT rates came into effect on July 1st 2020 for six months, as part of government measures to support the economy during the pandemic. Goods prices rose at a faster pace (2.6 percent vs 1.9 percent in March), boosted by a jump in energy cost (7.9 percent vs 4.8 percent) and a higher increase in food prices (1.9 percent vs 1.6 percent). Meanwhile, services inflation came at 1.6 percent, unchanged from the previous month, with rent prices increasing 1.3 percent. On a monthly basis, consumer prices were up 0.7 percent in April, also matching early estimates.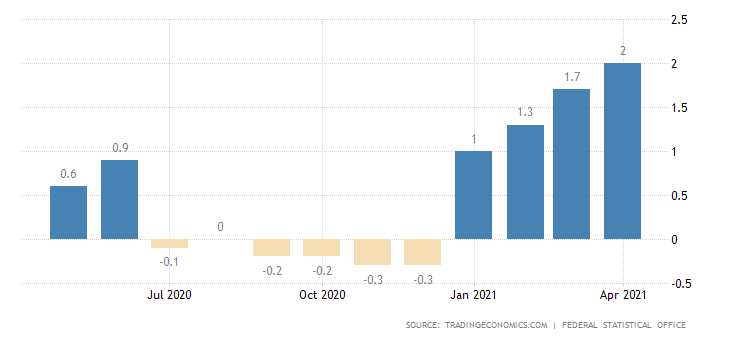 The Consumer Price Index in Germany increased 0.70 percent in April of 2021 over the previous month.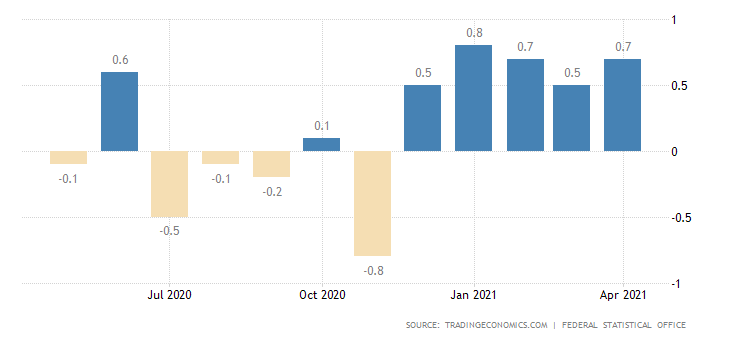 Producer prices in Germany rose 0.9% from a month earlier in March of 2021, easing from a 0.7% increase in the previous month and beating market expectations of a 0.6% rise.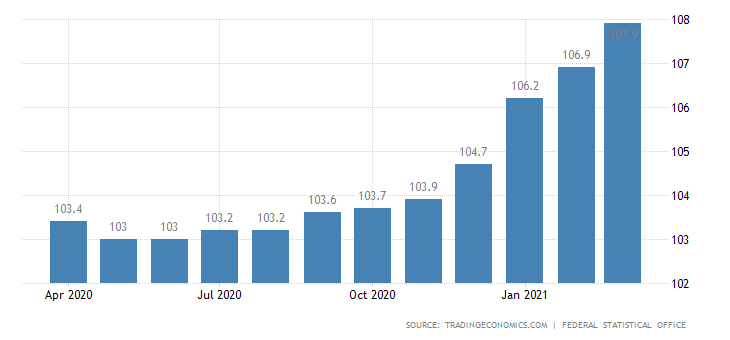 Industrial producer prices for the domestic market in France rose 1% from a month earlier in April of 2021, following an upwardly revised 0.9% increase in the prior month. They were driven up by the prices of manufactured products (0.9% vs 1.0% in March) and, to a lesser extent, by those of mining and quarrying products, energy and water (0.9% vs 0.2%). Year-on-year, the industrial producer prices for the home market surged 4.5%, after an upwardly revised 1.9% rise in the previous month.