Views: 872

Macroeconomic conditions and output in Europe continue to struggle in Q1 2021, alongside the slow containment and vaccination progress. European economies continue to face uncertainty about the path to exit from the Pandemic health emergency, meanwhile, the wider economy across Europe continues to see the recessionary shrinking output, that would bring to the conclusion of possible economic output recession in Q1 and Q2 2021, meanwhile a stabilisation with a shallow path of growth in Q3 and Q4.

Industrial production in Germany declined -2.5% month-over-month in January, while forecast consensus was of a +0.2% improvement. In January, production went down for capital (-0.8%) and consumer goods (-3%). Also, construction output declined by -12.2% due to a strong increase in December and the end of the VAT reduction. On the other hand, production of intermediate goods (0.7%) and energy (0.6%) increased. Compared with February 2020, the month before restrictions were imposed due to the coronavirus pandemic in Germany, industrial production was -4.2% lower. Year-on-year, industrial output fell -3.9%.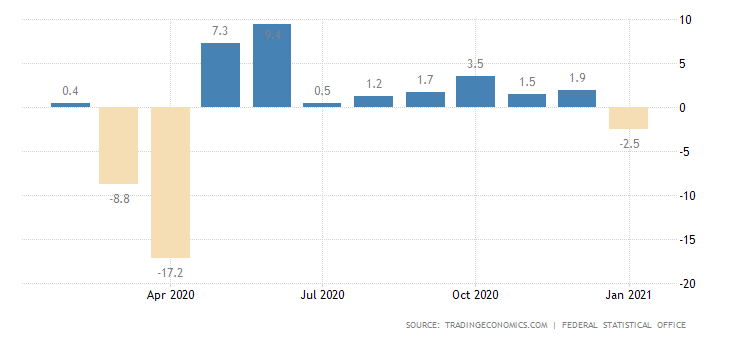 Spain's industrial production fell by -2.2% from a year earlier in January 2021, following a revised 1.5% decline in the previous month and compared with market expectations of a 0.7% drop. Output decreased for consumer goods (-5.8%), of which non-durable (-5.2%) and durable consumer goods (-1.6%); capital goods (-5.4%) and intermediate goods (-0.6%). Meanwhile, production grew for energy (3%). On a monthly basis, industrial output went down 0.7%, following a 0.8% rise in the prior month.