Views: 802

The GBP/USD currencies exchange rate price action trendline has drifted on a risk reversal to the downside where the 100 months moving average and a Bollinger Band signal generated a sell signal, when the exchange rate peaked at GBP/USD 1.40<1.42 range. The GBP/USD price action trendline has been drifting in an INVERSE CUP & HANDLE pattern that would likely going to test GBP/USD 1.32 exchange rate level, 4cents lower than the intraday exchange rate GBP/USD 1.36, as in fact any upside in the GBP/USD exchange rate has clear technical resistance in the IKH Tenkan line and the Senkou A/B nuage that would equate to GBP/USD 1.3775. Considered the macroeconomic data in the context of an inflationary slowing global economy , the abysmal Government mismanagement of the economy and a wide variety of factors, the Pound could see bearish sentiment mounting among forex traders, that would reinforce a devaluation trend against other major currencies. From a GBP/USD chart technical standpoint on a monthly time scale, it's possible to see particular weakness in the Pound. Technical levels to watch as support areas are the 50-month moving average Bollinger band middle line GBP/USD 1.32, when support breaks, support levels to consider are the GBP/USD 1.28<1.30 range between the Kijun line and the Senkou A/B nuage, when support breaks below GBP/USD 1.30 a full -10% retracement on GBP/USD 1.2250 could be in the cards. The only variable that could have the potential of sparking interest in the British Pound could be a SONIA interest rate hike decided at the Bank of England.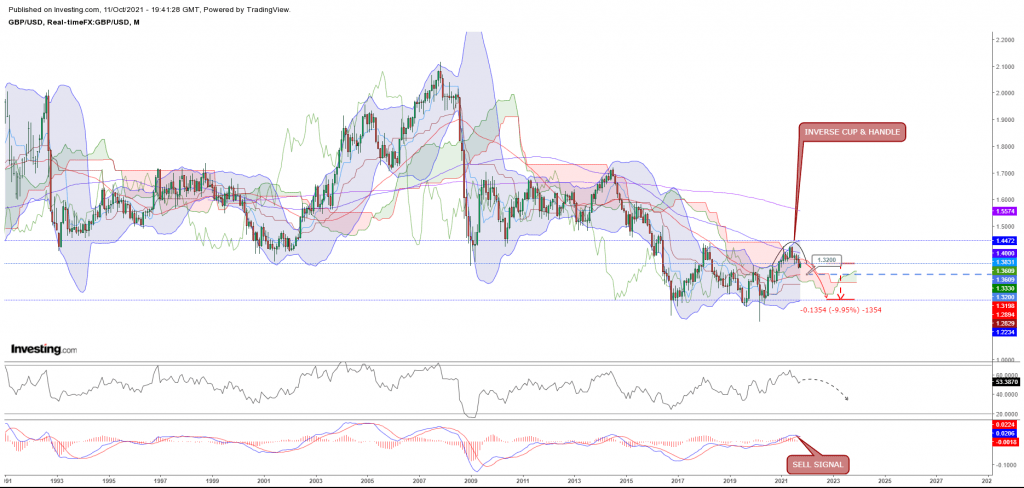 GBP/USD FUTURES CONTRACTS BACKWARDATION & CONTANGO DO PROVIDE EXCHANGE RATE PRICE INEFFICIENCIES, THAT WOULD PROVIDE ARBITRAGE OPPORTUNITIES. THE GBP/USD '22 FUTURES BACKWARDATION COULD PROVIDE AN OPPORTUNITY OF SELLING OUTRIGHT GBP/USD '21 FUTURES
GBP/USD PUT/CALL RATIO 1.26 PROVIDE AN HINT OF BEARISH PRESSURE ON THE POUND. HIGH OPEN INTEREST ON THE PLAIN VANILLA PUT DEC'21 GBP/USD 1.34. SIGNAL THAT FOREX MARKET TRADERS DO SEE A GBP/USD EXCHANGE RATE TRADING BELOW GBP/USD 1.34 IN THE SHORT TERM.