Views: 518

Services and Manufacturing PMI in the United States highlight signs of economic slow down for the month of August, data in the coming months would provide a clearer picture for the economy in America, whether rising inflation pressures, inflation expectations and declining consumer confidence would signal peak growth with shrinking confidence in the economy.
The IHS Markit US Manufacturing PMI fell to 61.2 in August of 2021 from 63.4 in July, below market forecasts of 62.5, preliminary estimates showed.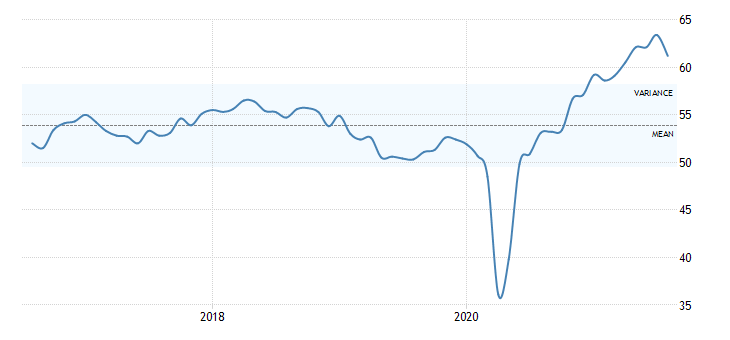 SERVICES PMI 55.2 10YEAR MEAN REVERSION COULD BE A SIGNAL OF ECONOMIC GROWTH PEAK
The IHS Markit US Services PMI dropped to 55.2 in August 2021, a third straight month of decline from May's all-time high of 70.4 and well below market expectations of 59.5, a preliminary estimate showed.