Views: 639

The Canadian economy shed 200.1 thousand jobs in January of 2022, following an upwardly revised 78.6 thousand gain in December and more than market expectations of a 117.5 thousand fall. It was the first decline in employment since May of 2021 amid soaring coronavirus infections, exacerbated by the new omicron strain. Employment fell both in full-time (-83 thousand; -0.5%) and in part-time jobs (-117 thousand; -3.3%). The number of people who were employed but worked less than their usual hours soared at the fastest pace since March 2020 (+620 thousand; +66.1%). Across industries, services lost 223 thousand jobs, led by accommodation & foods services (-113 thousand), culture & recreation (-48 thousand), and retail trade (-26 thousand), while the manufacturing sector added 23 thousand jobs.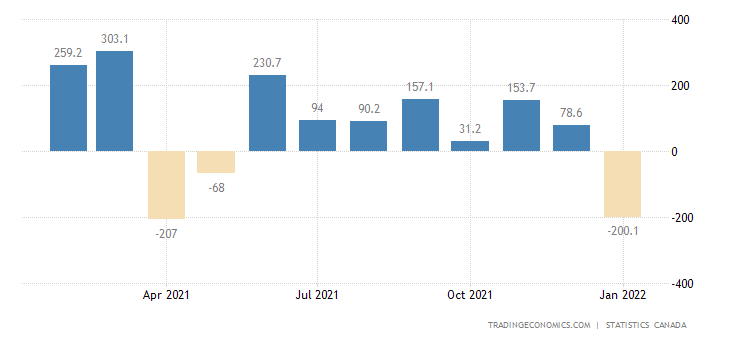 The unemployment rate in Canada rose to 6.5% in January of 2022 from an upwardly revised 6% in December of 2021, above market expectations of 6.2%. It was the first increase in the jobless rate since April of 2021, amid a surge in coronavirus cases due to the spread of the Omicron variant. The unemployed population increased by 106,000 (8.6% to 1,340,000), while the employed population decreased by 200,100 (-1% to 19,176,000) above market forecasts of a 117,500 reduction. Meanwhile, the labor force participation rate dropped to 65% from the upwardly revised 65.4% in the previous month.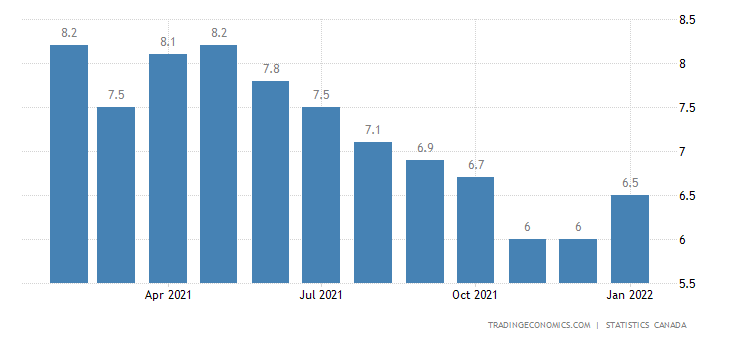 The Canadian dollar could experience further weakness going forward against the USDollar, considering the disappointing data from the labor market, where the unemployment rate increased to 6.5% meanwhile the Canadian economy shed -200k jobs.
In the chart below on a daily timescale the USD/CAD currency pair highlights to a USD/CAD price trendline change during Q2 2021, which has then shaped in a slow uptrend drifting of the USD/CAD exchange rate price. The intraday price action gives a USD/CAD 1.2750 from where the USD/CAD trendline can break IKH Cloud span A/B resistance, thereby the exchange rate could start to drift higher as a sign of Canadian dollar weakness.
Reference points in the USD/CAD exchange rate levels going forward are going to be USD/CAD 1.30 and USD/CAD 1.32 which could determine a 3.5% uptrend in the USDollar.